SHDHS Athletic Boosters
The primary purpose of the St. Henry Boosters is to promote and support the athletic interests of St. Henry District High School. Our Boosters organization also assists the athletic director, coaches, and other associated personnel of St. Henry District High School to:
Develop and maintain the athletic programs and the various athletic facilities and equipment in keeping with the high standards of the school.
Utilize the athletic program as a positive force to build an enthusiastic school and tradition.
Develop and maintain an active interest and support for the athletic program among the parents, students, and alumni of SHDHS.
Provide financial support for the athletic program by means of fundraising activities.
Provide a fun, interactive, social environment for all of its members.

ABOUT SHDHS GOLF-A-THON
In an effort to raise money to aid in the building and maintenance of SHDHS' State-of-the-Art Athletic Facilities, an Annual Golfathon was established by our Athletic Boosters in 2010.
On October 9th of this year, golfers will play a day of golf at Hickory Sticks Golf Course.
What else we have done over the years to support our SHDHS and our Athletic Programs…
Helped fund the rubberized track.
Paid for new track equipment.
Paid for new storage facility.
Helped fund new Athletic Department's utility vehicle.
Helped fund new soccer practice facility.
Provided funding to all sports teams to help pay for game expenses, uniforms, etc.
Provided funding for needed maintenance of athletic facilities and equipment.
Provided and managed concessions for majority of our sports teams.
Provided scholarships to graduating seniors.
Provided grants to other organizations within SHDHS.
Developed the plans, architecture, and funding plans/budget for a new Press box for the SHDHS Stadium.
Developed the plans, architecture, and funding plans/budget for a very special Mary Grotto that all SHDHS can be proud and enjoy.
Helped fund irrigation system for soccer practice fields.
Established a "Future Maintenance Fund" to help pay for major maintenance of our athletic facilities (example, soccer field recrowning and returfing, baseball field recrowning, etc.).
Provided concession equipment to improve our concessions.
Provided drinks for every Athletic team banquets.
Assisted with payment for SHDHS & SHAC Renovations and the purchase of necessary equipment for our athletes.
Helped fund acoustic panels and sound boards for the SHDHS Gymnasium
Helped fund the renovation of the SHDHS Weight Room
Provided funding for the establishment of the SHDHS Broadcast Team
Provided funding for the SHDHS Crusader of the Year Award Nominee Medals given to Athletes at Baccalaureate
Provided funding for Championship T-shirts given to teams that win All A State or KHSAA District, Regional, or State Champions

2019-2020 Projects/Goals
Provide funding to support the construction of the SHDHS Spirit Shop
Provide funding to support needed Bus Repairs
Provide funding to support the Athletic Department Uniform Rotation (Boys & Girls Soccer, Boys XC/Track & Field, Boys & Girls Bowling)
Get Involved in the SHDHS ATHLETIC BOOSTERS!!!
Have some fun and support SHDHS by getting involved in the Boosters.  To get started, come to a Booster Meeting. Monthly meetings take place at 7:00pm in the SHDHS Media Center on the 2nd Monday of the Month (September – May). For more information, please email us at [email protected].
2019-2020 SHDHS Boosters Meeting Schedule
September 9, 2019
October 14, 2019
November 11, 2019
December 9, 2019
January 13, 2020
February 10, 2020
March 9, 2020
April 13, 2020
May 11, 2020
SHDHS Boosters Executive Committee
President:  Ronnie Holmes
Past President: Ted Kluemper
Vice President: Kevin Shea
Vice President:
Treasurer: Tom Butler
Secretary:
School Board Representative: Chris Berling
Athletic Director: Maureen Kaiser
Sergeant of Arms: Sue Kolkmeier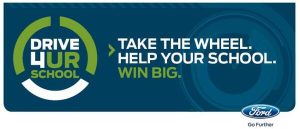 The St. Henry District High School Athletic Boosters Club participates the Ford Drive 4UR School Event. The money raised for this event will help to support the Athletic Department Uniform Fund. For every valid test drive taken in a Ford vehicle at a registered one-day event, Ford will donate $20 to SHDHS (up to $6,000).
Help Needed: During our events, We are looking for volunteers (age 18 years or older) with a valid driver's license to chaperone each vehicle for our event. Chaperones will ride in the passenger seat of each car as the cars are test driven around the St. Henry parking lot. Please contact us to sign up if you can help.